OnLine Demo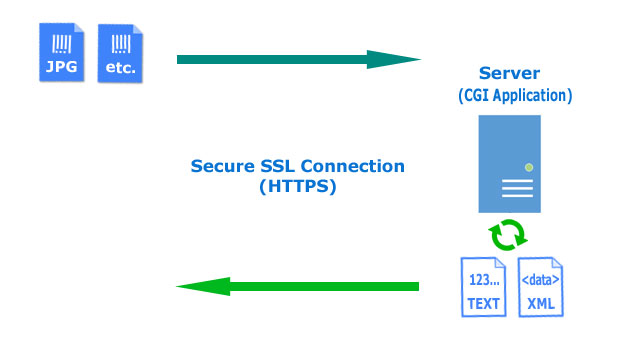 OnLine Barcode Reader is a CGI application.
Your image file will be sent to the CGI server over a secure connection. Once the server application receives the file, it will start processing it. To ensure the highest degree of security, the server application doesn't save your files to a disk but processes them in the memory.
The CGI server application will send the result to you as soon as it decodes the barcode. The result can be a plain text, XML, or an image depicting the decoded barcode.
The server application accepts POST requests whose MIME type is multipart/form-data. In addition to the barcode image file, your request may contain various decoding parameters (see here).
You can use the CGI server application running on our server or install it on your own server. If you prefer to host the server application on our server, you will have your own virtual server. To ensure high reliability and security, only you will use your virtual server. If you want to test our OnLine Barcode Reader, please click here.